MediaTemple provides Developer and Managed VPS hosting packages. Developer hosting is for expert Linux users. It's designed to give clients total control of their Virtual Environment, which is why servers are provided with SSH only. Clients control and install all software.

DigitalOcean is unmanaged server hosting services. This means clients will have to do the server system administration, server maintenance, and software configurations. Things like control panel setup, SSL certificates creation, troubleshooting configuration issues, installing scripts and software, setting up iptables firewall rules, upgrades, backups, etc. The hosting provider is only responsible for the physical server and the availability of the server, but does not provide any help in case any problems are faced with unmanaged accounts. Some webmasters have years of experience working with servers and have no problems with this, but non-technical customers are often in a different boat. Unmanaged server hosting solution is always low cost because of no cPanel and technical support.

Rackspace Cloud does not offer a popular control panel like Plesk or cPanel. This company provides a web-based management interface that users accustomed to cPanel and Plesk may feel a bit awkward when using it. Since the Rackspace Cloud is an un-managed service, clients are responsible for installing and maintaining all software on their server. Rackspace provides two support service levels: Core Service and Managed Service. At the Core Service level, support team will not assist in the installation of software or troubleshooting any kind of issue related to the software installed. Managed Service provides additional support, which includes monitoring, operating system and application infrastructure layer support, and technical guidance. To benefit from Managed Support Service, clients have to pay for what they use plus a $100/mo.
Server hosting solutions provided by Rackspace and MediaTemple are really overpriced compared with their competitor's. Some companies such as GoldPuma offer richer fully managed VPS hosing plans at affordable prices.

When choosing a VPS or dedicated server provider, besides the reliability, ease of use, price and security, there are two other important criteria which must be considered — the level of customer services, and server speed.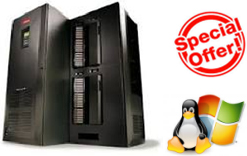 Super High-speed Servers, Ease of Use, Great Support Team, and Incredible Prices!
GoldPuma has a reputation for its super high-speed servers, and great support team. They offer user-friendly tools to make it easy for their clients to set up and manage their own websites. Their VPS and dedicated server plans feature lightning-fast processors, all backed by the best service and support in the industry, available LIVE 24/7. Their experts will help get your server up and running fast! Just choose the plan that's right for you, and leave the rest to GoldPuma.